Ok, I know it might seem weird, especially to those of you who aren't parents.  But in my family, we are celebrating a major milestone – 3-year-old Disney is officially potty-trained!!!  In lieu of this triumphant moment (congrats to Disney but let's face it, one of the best parts about this is that we only have to buy and change diapers now for ONE instead of TWO!), I thought I'd share a cute potty-training-themed email forward, here goes, and again, forgive me if you are not on the same page with me – potty-training kids is a big deal, and this is our THIRD success story!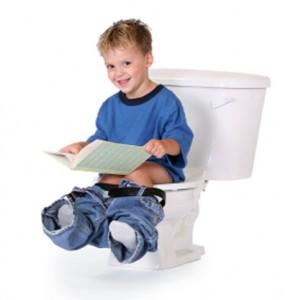 THE POTTY
A LITTLE THREE YEAR OLD BOY IS SITTING ON THE TOILET. HIS MOTHER THINKS HE HAS BEEN IN THERE TOO LONG, SO SHE GOES IN TO SEE WHAT'S UP.
THE LITTLE BOY IS SITTING ON THE TOILET READING A BOOK. BUT ABOUT EVERY 10 SECONDS OR SO HE PUTS THE BOOK DOWN, GRIPS ONTO TO THE TOILET SEAT WITH HIS LEFT HAND AND HITS HIMSELF ON TOP OF THE HEAD WITH HIS RIGHT HAND.
HIS MOTHER SAYS: "BILLY, ARE YOU ALL RIGHT? YOU'VE BEEN IN HERE FOR A WHILE..
BILLY SAYS: "I'M FINE, MOMMY.. I JUST HAVEN'T GONE 'DOODY' YET."
MOTHER SAYS: "OK, YOU CAN STAY HERE A FEW MORE MINUTES.  BUT BILLY,  WHY  ARE  YOU  HITTING  YOURSELF  ON  THE  HEAD?"
BILLY SAYS: "WORKS FOR KETCHUP."