(NOTE – This is part 4/4 of our family's trip diary detailing our vacation to Orlando, FL taken a year ago now.  This last installment is quite late, but better late than never, I think!)
Friday, January 21 – Today our house seemed quite empty as our travel companions left and it was just Hubby, me and the kids.  We did enjoy a day of family time, beginning with breakfast at…  Sizzler.  Actually, I don't remember where we ate breakfast.  To be honest, I put the Florida trip diary aside for the past few months and now I don't remember where we ate breakfast.  I don't remember all of the details of the day, but I have enough treasured vacation memories to know that it was an excellent day spent with my family.  We drove over to Downtown Disney to try something different for a change – we had never been there.  Downtown Disney has so much to see that we just walked around for a few hours and were entertained without having to spend money.  My personal favorite was the amazing Lego store where one can buy just about any type of Lego a heart desires.  You can buy the flat building platforms, bricks in any color of the rainbow, minifigs, and there was even a sort of Lego buffet – you can fill a container with all different types of pieces, any kinds you want: basic building blocks, doors, windows, steering wheels, joints, hinges, you name it.  There were stations with samples to play with, and I had to exercise some self-control to let the kids play instead of sitting there myself for hours on end.  Because this is Florida, there were Lego things to see outside too – little stations with ramps where you can build Lego vehicles and race them, as well as full scale Lego models of people, the London Bridge, and even a large Loch Ness monster in the lake: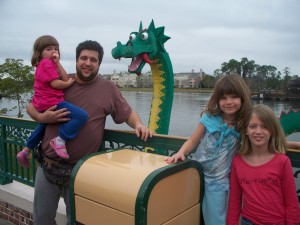 It's really a good thing for my family's budget that there is not a Lego store within 100 miles of our house; I could go nuts in there!
We also went to the Rainforest Cafe and a few other stores and restaurants where they had really cool decor for the kids to see.  There was a restaurant with huge dinosaurs where we stopped to use the bathroom, and the kids even enjoyed the Little Miss Match shop (a company that sells socks in sets of 3 and none of them match.  The store has socks and lots of other stuff that little girls love to accessorize with).  It began to rain, so we got on a boat to cross the lagoon to get to the bus.  If you are on vacation in the Orlando area and you find yourself with an extra day or some downtime, then I recommend taking a spin on the Disney transportation – especially if you are over-budget on your trip because it's all free.  A fair warning that Disney property is so large that riding the buses, boats and monorails can take up a significant part of your day, but it is a fun and FREE way to see the sights of Disney.  So we took a bus to the Grand Floridian hotel to catch the monorail, just for fun.  Parking at Downtown Disney is free, so we got on Disney grounds without even having to pay parking!  We did have to spend a good 45 minutes on the bus though, but by now it was pouring, so we didn't mind too much.  Besides, Hubby surprised me on the bus when he presented me with a Severus Snape minifig that he had picked up as a surprise without me seeing when we were at the Lego store!!  I could not even tell him that Snape is my favorite Harry Potter character because he would have wanted to know why – I didn't want to spoil the last Harry Potter movie for him when it wasn't out yet at that time.
At the Grand Floridian, I had to take some kids to the bathroom, and while I was in there, Hubby got a last minute great deal on a character dinner for us!  So we enjoyed dinner with Cinderella, her prince, her step-sisters and her step-mother.  The food was wonderful, and the kids loved meeting the characters as they walked around to greet tables.  After that, we made our way back to our car, and we were exhausted…  I think we called it a night – I'm not really sure; it's taken me so long to finish this trip diary that my memory has faded.  All I know is it was a really great day, and a super way to end a wonderful vacation – SO WISH we could go back this year!
Saturday, January 22, 2011 – On this day I know we began to make our way back to Ohio, but I don't remember the details.  I think we had told the kids we were going to do some souvenir shopping, but we ran out of time and just wanted to hit the road.  Then we had an idea – there are Cracker Barrel restaurants lined up along the expressway all the way home, so we found one on the GPS and got there just before it closed.  Cracker Barrels have little stores in them, and the one we stopped at (in Georgia) had a great sale going on.  The kids were able to shop and had fun getting some great deals – it was a nice way to add a little more fun to our trip.  We arrived home very early Sunday morning, if I'm not mistaken, and probably slept all day and unpacked.  SUPER trip that made awesome memories – can't wait to do it again someday, I hope!!