Our poor little 8-year-old daughter, Taylor, was born on the short side of the genetic crapshoot when it comes to teeth.  The poor kid has cavities, teeth that are fused together, and other dental problems.  They wanted to do so much dental work on her that our small town dentist referred us to the big city of Toledo to get it taken care of.  So, yesterday saw an all day excursion to Toledo so the poor kid could undergo some major dental work.  It actually went quite well; she handled everything like a trooper.  I'm sure the laughing gas and novacaine somewhat helped the pain, but when it was all said and done, she did freak out a little about all the blood.  After that whole ordeal, we wanted to make the day special for her, so we made a quick stop at the zoo between dental appointments.  We only had about an hour, so we didn't get to see our favorite animals, but we did have time to check out the reptile house, which, crazily enough after all of our visits to the Toledo Zoo, we had never been in.  It was a typical reptile house, full of snakes, lizards, and frogs (even though they're not reptiles, zoos always put them in the reptile house I've noticed), but what I really enjoyed was the crocodile.  I can't tell you the last time I saw one of those, especially indoors.  It was huge, and unlike their cousins the alligators, crocodiles are not friendly nor docile.  They are very agressive animals, and you can almost see it on their faces.  The Toledo Zoo also has a Chinese alligator, and I was wondering if Chinese alligators are similair to American alligators in temperment.  I know the Chinese alligator is smaller and much more rare, but I wonder if that is where the differences end…  I'll have to do some research.
After the second dental appointment, we made a stop at Chuck E. Cheese, gauze packed mouth and all.  The kids had a blast, although it wasn't very crowded, so Chuck E. didn't venture off the stage for a visit, much to my 3-year-old's disappointment.  But I came to a realization that it was our youngest-for-now's first visit to a Chuck E. Cheese, at least her first one where she was old enough to enjoy it.  Since we live in the boondocks, we just don't find ourselves at Chuck E. Cheese nearly as often as when we lived in the Chicago suburbs like when our oldest was a toddler.  But that's quite alright, the place is expensive, and going infrequently really teaches the kids to appreciate the times we do make it there.  Over the years, not much has changed there…  when I was a kid, they called it Show Biz Pizza, and I was able to find pics of the old characters for others my age who like nostalgia.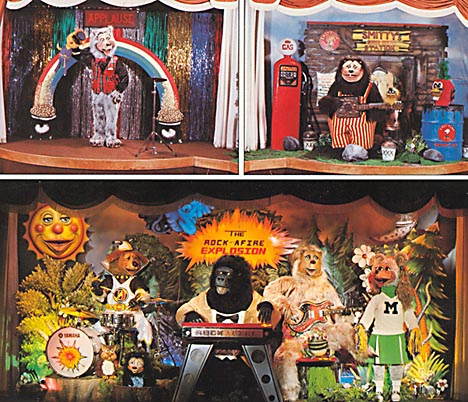 The main character for the chain, a bear named Billy Bob (top right picture), really scared me as a kid…  for some reason, he had long claws, which can be really scary for a kid.  In Kindergarten, we got to go on a field trip to Show Biz; they took us behind the scenes and "undressed" one of the robots and took us back into the room where they have all the control panels for everything.  Why they wanted to show a bunch of 6-year-olds that the characters were actually robots is still beyond me, but it was a very cool field trip and something I still remember.