Today my son is 8 months old – how time flies!  Gone are the days when I could cradle him like a newborn baby and sing him to sleep.  There is no better way to relax than that, and I really miss it.  Yesterday when I was in Walmart, I literally almost cried when I  saw the itty bitty baby outfits.  Why do they grow so fast?
So anyway, today is Christopher's 8 month birthday, and he's been growing by leaps and bounds lately.  He popped his first tooth a few weeks ago, and I swear, every day that tooth gets a little bit taller.  He just has the one tooth so far, like a snaggletooth, so we've been calling him "snagglepuss".  I don't think that nickname will stick though, it's not quite as cute as his nickname of "Beeber", which is how our 2-year-old used to say Christopher.
Here is "Snagglepuss" – note the little tooth on the bottom: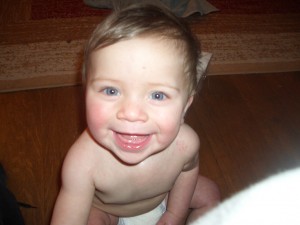 And he is finally sitting up!  A little late, but  it seems as if now he's doing everything at once!  He can scoot on  his tummy, roll from his back to his tummy and his tummy to his back, and he can also sit up by himself when he's laying down.  Now that he's sitting, he can be busier because it's easier for him to play.  Here he is sitting up: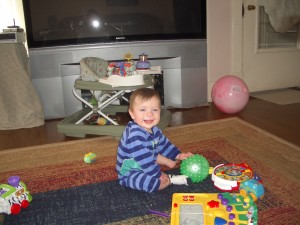 And of course, after all of this activity, he gets tired, and sometimes, he doesn't quite make it up to bed: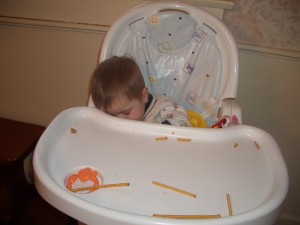 HAPPY 8 MONTH BIRTHDAY CHRISTOPHER!!!