While I'm on the topic of date night (see my previous post)…
This week we did not feel like mini-golfing again on date night, so we went bowling instead.  I did so well, we got a printout of the scores, much to my husband's dismay – I've already mentioned how he has bad luck at physics-dependent sports like bowling and mini-golf.  And I got tons of practice at bowling as a kid – I was in a weekly bowling league for I don't know how many years.  Later in high school, I took bowling in gym class and joined intramural bowling after school where I  was crowned, "Female Bowler of the Year" for the two years I was in it –  not a difficult feat, seeing as how there were under 10 girls involved, but still, if we had had a competitive bowling team in high school, perhaps I would have been a high school athlete, hehe!
I've spent about 23% of my adult years pregnant (!) and most of the rest of those years raising small children who would wreak havoc with a bowling ball, so needless to say, I have not had a chance to hone the skill I developed as a youngster.  I do enjoy the occasional bowling game,  though, and rarely do I top my previous bowling average from back-in-the-day: 132.  Well, the other date night, not only did I top my old average for the two games we played but I somehow tied my all-time high score!  Well, anyway, here are the scores, and this reminds me to make joining a weekly league a priority when the kids get a little bit older!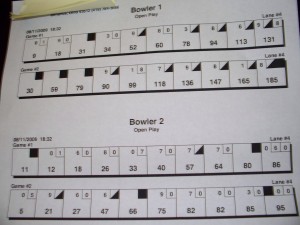 And about the title I chose for my post…  I just finished reading the book Columbine by Dave Cullen, and it was a fascinatingly detailed account of the 1999 Colorado high school massacre dissected from just about every angle.  If you like to read true crime or just want to know every detail about the massacre (it holds a special fascination for me since it was unfolding just as Hubby and I arrived at our honeymoon destination after a 24-hour road trip back in '99), you should read this book.  It's both sad and informative, and the author does mention that the Michael Moore movie, Bowling for Columbine, has little to do with the circumstances involving the high school massacre.  But, Bowling for Columbine is a catchy title nonetheless, which is why I borrowed it, not because I'm a Michael Moore fan.  Actually, we saw a parody of his movies the other day, and I will be sure to include the movie review in an upcoming post called "It Was A Redbox Summer".  Stay Tuned!