It's that time of year again!  Dust off your cowboy hat, put it on, and get ready for a rootin' tootin' time watching the 44th annual Country Music Association Awards!!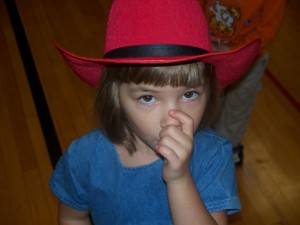 I'm going to try something different this year – I'm not going to watch it.
Not that I don't want to, because I really do, especially when I go to the website and see all the stuff about live streaming comments and things like that.  It wasn't too many years ago when I made my own blog of live streaming comments, and I had fun doing it.  But I won't be able to watch the CMAs this year because I have something much more important to do:  I lead a small group of 6th grade girls at our church's youth group on Wednesday nights.  I'm not about to put a tv show above those girls, and I certainly wouldn't be prepared to tell them the reason for my absence was because of the CMA awards – that would not be acceptable.  If one of my own kids was sick and I stayed home for that reason (as it happened last year on CMA night), that would be a different story, but it's a great thing that everyone is healthy enough for me to have to miss one of my two most favorite tv events of the year (not including a year the Chicago Cubs would make it into MLB playoffs, but that hasn't been anything I need to concern myself with in quite some time, Grrrr – my other favorite tv event is the other big country music awards show, the ACMs in the spring).
If you watch the CMA awards, HAVE FUN!!  I'm hoping that whatever recording device my husband has in mind to record these will work – we often have bad luck with recording devices.  Part of me will miss being a part of the event, reading the live commentary and providing my own, and part of me was ready to move on anyway – seems I've become increasingly disconnected with today's country music scene (now I just sound old).  I'll still give my picks, but they are guesses at best because I really haven't been following the genre lately.  I didn't even know until I looked last night to find out what time the awards came on that Gwyneth Paltrow, the movie star, has a hit song on country radio right now.  I'm actually more into Christian music than ever before; there is some pretty good stuff out there.  And listening to Christian music gives me a chance to practice my dances I have on Sunday mornings with the 1st graders 🙂  But all of that leaves less time to listen and keep up with country music.
But what the hey, I've had fun trying to pick the winners every year so here goes.  My picks are in green with random thoughts in itallics:
♦♦Entertainer of the Year – Brad Paisley, Lady Antebellum, Keith Urban, Miranda Lambert, Zac Brown Band (What?!?  No Kenny Chesney??  That's great news for those of us who aren't big fans…  now, who to choose to take his place?)
Female Vocalist – Miranda Lambert, Martina McBride, Reba McEntire, Taylor Swift, Carrie Underwood (So great to see 2 of my favorites (Martina and Reba) back in the game!  I don't think Martina will win, but I SO WANTED to choose her!!  Carrie Underwood is great too – I'm not a big fan of Taylor Swift, but unfortunately, I think she will win this one)
♦♦Male Vocalist –  Dierks Bentley, Brad Paisley, Blake Shelton, George Strait, Keith Urban
New Artist – Luke Bryan, Easton Corbin, Jerrod Nieman, Chris Young, Zac Brown Band (Explain to me how Zac Brown Band is still considered "new"?  They have some great music and have proven themselves, as I would think being a nominee for Entertainer of the Year would prove!)
Vocal Group – Lady Antebellum, Little Big Town, Rascall Flatts, The Band Perry, Zac Brown Band (Let's be honest, I think Lady Antebellum will take it.  But I just love the music of Rascall Flatts, and can't bear to vote against them. I'm not trying to get 2 votes in – officially, my pick is Rascall Flatts)
Vocal Duo – Brooks and Dunn, Joey + Rory, Montgomery Gentry, Steel Magnolia, Sugarland (The last year for Brooks and Dunn, and I don't think they'll pull a GARTH Brooks and pull out of retirement, so this powerful duo gets my vote – they are so talented, so they deserve it anyway.  I was lucky enough to see them in concert 3 times, and they did not disappoint once!)
♦♦Single – A Little More Country Than That by Easton Corbin, Hillbilly Bone by Blake Shelton featuring Trace Adkins, Need You Now by Lady Antebellum, The House That Built Me by Miranda Lambert, White Liar by Miranda Lambert
♦♦Song – A Little More Country Than That, Need You Now, The House That Built Me, Toes, White Liar
♦♦Musical Event – Bad Angel by Dierks Bentley feat. Miranda Lambert & Jamey Johnson, Can't You See by Zac Brown Band feat. Kid Rock, Hillbilly Bone by Blake Shelton feat. Trace Adkins, I'm Alive by Kenny Chesney with Dave Matthews, Till The End by Alan Jackson with Lee Ann Womack
Music Video – Hillbilly Bone by Blake Shelton feat. Trace Adkins, Need You Now Lady Antebellum, The House That Built Me by Miranda Lambert, Water by Brad Paisley, White Liar by Miranda Lambert
Musician – Paul Franklin – Steel Guitar, Dann Huff – Guitar, Brent Mason – Guitar, Mac McAnally – Guitar, Randy Scruggs – Guitar
Hmm, 5 correct of the 11 I guessed…  not too great.  Oh well, it was a good show and fun to watch!