I have a wonderful tale to tell – a God story, and I love those.
A few weeks ago now, I met a friend for lunch at McD's.  Later that evening, as my hubby inquired about my day and asked how my lunch was, I talked about how much I enjoyed hearing my friend's updates on her beloved cat, Mya.  I even lamented, "I wish I could have a kitten."  I seem to be an animal person you say (I AM) – so why don't I just get a kitten?  Well, I'm allergic to cats, otherwise I would probably have a cat (or two or three or…).  I actually had one for 10 years and loved her very much, but I was very allergic to her and that was tough for both of us.  But anyway – back to this Friday night a few weeks ago – I'm wanting a cat.  Saturday morning, the early risers in our family were alerted by an "alarming" sound in our backyard.  They found 2 cats fighting on the fence, and across the yard, 3 baby bunnies crying out in alarm.  Sammie was dispatched to alert me (still in bed, allowed to sleep-in, THANK YOU Hubby!), and in the now-calm backyard I found 3 exhausted baby bunnies resting while my kids were comforting one of the stray cats.  The stray was a friendly fellow; he had black and white fur, green eyes, and a few extra toes.  I couldn't believe the obliging attitude – pleasure even – that this cat was deriving from the attention my kids were doting upon it.
I couldn't resist petting this friendly kitty, and when I did, something strange happened.  Well, actually,  it was nothing at all that happened.  No sniffles, no itches, no hives – no allergy symptoms.  How could it be that I wasn't allergic to this cat?  For the record, Hubby is also allergic to cats but didn't react to this one either.  So anyway, we let the super friendly tuxedo cat in the house.  He walked right in and looked around, and it really did seem as if he had lived here for years – and he's been here ever since!  Just fit right in with our entire family, and it's not an easy feat to forge a seamless transition from outdoor feral cat to indoor family cat, especially when the new family =  5 kids (3 girls ages 12, 8, 5 and 2 boys ages 3 and 8 mos.), a dog, a parrot, a rabbit, and 2 rats.   But saying we've had a smooth transition would be an understatement!
What a gift he has been.  A gift from God for our family…  to bring us together as we welcome a new member for however long we're allowed to take care of him.  A gift for us to cherish together while we play with him.  A gift for me to help ease the mounting stress I've felt lately.  Have you seen the medical research on how a purring cat relieves stress?  It exists, trust me!
So to acknowledge this gift for us and to honor our God, "Mittens" became "Moses" – and it is cute when the kids rhyme about "Moses with the extra toe-ses".  Moses seems very adept at using his paws, and he acts very cat-like around the house, which I love – just why I wanted to have a cat around.  For now, we are enjoying Moses and his company.  He gets along with all of our other pets and is wonderfully tolerant of the kids – he fits in our family like the missing piece of a puzzle; not that any of us realized there was a piece missing before Moses came.  So could it be that "my food chain gang" has been restored?
Both an article I read and a devotional I heard recently happened to be about the same subject: knowing and having the faith and satisfaction that God sees you, even if you feel invisible to the world.  God uses many aspects of His creation to bring people closer to having meaningful relationships with Him and to help us receive His messages, even animals.  My family was getting burnt out from a busy schedule, and it really rejuvenated the kids' spirits to get to have this cat.  And they aren't the only ones 😉
"…You are the God who sees me…"  from Genesis 16:13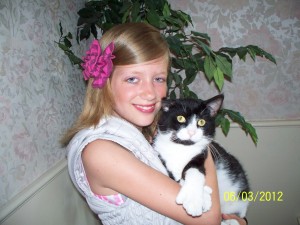 This is a picture of our oldest daughter holding the cat.  No, my 12-year-old does not normally wear make-up; this was "spa night"  🙂
God is so good!!