All of this talk of hideouts and outlaws (see my previous post about Robber's Cave) makes me think about a really fun card game we've recently discovered – it's easy to become a Bandits junkie!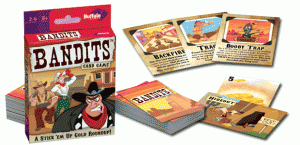 Bandits is a card game by Buffalo Games, and it's fun for the entire family.  It accommodates 2-6 players and is recommended for ages 10+, but we've found that our 9-year-old daughter and her friends can learn it and play quite easily.
Basically, a player begins with a hand of six cards, and he has 3 options on his turn: start a gunfight, draw a card, or stash loot in his Hideaway.  Many shoot-outs and much thievery ensues until the deck runs out of cards, and players count their stash in their Hideaways to determine the winner.  Those are the basics – there are many other fun cards that offer various twists on the game play (double-crossing lawmen and outlaws, booby traps, backfires, to name a few), and I'm just skimming the surface of the game; you really should play to appreciate it.  I don't know that I've ever played such a fun card game (I like Pit a lot, but it's another type pf game altogether), and each game of Bandits is unique dependent upon the number of players – a 2-player game plays out much more differently than does a 4-player game.  I'd like to try it with 6 players, but we can never haul it out at game night since we always have more than 6 players.  However many players there are, Bandits is definitely worth playing and highly recommended by this game collector!