The July 2011 page on my calendar has been filled since spring, so I knew we had a busy month ahead.  Organizing everything I had jammed into those little squares on the calender was going to be challenging enough, but then we were even able to add a few family mini-vacations to the mix!  It's been a great summer so far despite the challenges of sometimes trying to be in 2 places at once, and I wanted to chronicle everything to enhance the wonderful memories we made as a family this summer – but be prepared; this will be quite the manifest when I'm finished!
June 30 and July 1 – We began the month with a last-minute trip to an indoor water park that's an hour away.  After a sudden burst of cabin fever, my husband found a super internet deal that afforded us some much-loved family time.  The kids loved the indoor water park, and Christopher was old enough this time to go on some water slides which he found to be a blast!
Best of all, the constant lower back pain that had been making me short of patience, irritable and tired all the time seemed to be remedied by my getting to sit in water for 2 days.  I should note for future reference also how interesting it was to pack different people for 3 different trips at the same time.  Simultaneously, I was packing 6 people for an overnight stay (with a separate bag for changing into street clothes from bathing suits, I might add), 1 little girl for a 4 day stay at camp, and also for a 3 day trip for 6 people.  It felt hectic at the time, but not unmanageable – due to the fact that my wonderful family did much of the work for and with me.  And you know what?  I don't think we forgot anything!!
July 2, 3 – After the water park, we got a day of rest (and unpacking, re-packing, laundry) before we set out Sunday for the 4-hour drive to Nashville Indiana – with one small glitch:  Hubby had food poisoning.  He had to miss church to rejuvenate, and then we were off – well, after packing up the car and some other in-town odds n ends.
July 3-6 – We spent the 4th of July in Nashville – a yearly trip Hubby and I take with our 4 kids, my parents, my uncle, and my sister, her husband and their 2 kids – there were 13 of us staying in a large house in the middle of the Brown County woods.  It was a beautiful place, and we're torn on where to choose to have next year's gathering.  Last year, we had a beautiful house where each family had their own bedroom and bathroom.  The few downsides to this house (called The Oaks) was the large steep hill that led down to the pond and fire pit – it proved to be dangerous last year when someone took a nasty spill (but was uninjured), so we didn't want to gamble with it this year when we have an adult who is practically incapacitated (me being 5.5 mos. pregnant).  Also, the kids have to be watched constantly down by that pond, so it was a nice break for the adults this year to not have to worry about who was going to take them down there.  Also, there wasn't really any yard for the kids to play in at The Oaks.  There was a swingset, but really only the two 3-year-old boys were of the age to enjoy a swing set this year, and that leaves 4 other kids with no yard to run around in.  Both houses had pool tables inside and hot tubs outside (which became little swimming pools for the kids since we didn't want to turn on the heat in 90° weather), and The Oaks had tons of dvds,  board games, and a foosball table, but then again, this year we brought our own dvds and games and the kids had TONS to do and were never bored.  Another plus to this year's cabin vs. The Oaks: the large dining room table that fit almost everyone at the same time so we could enjoy meals together.  The Oaks had only a small breakfast nook that seated 4 people or about 6 kids, so the adults had to eat elsewhere.  Given these pros and cons of each cabin, it's going to be a tough decision next year on where to stay!!
The kids' favorite thing to do this year was to go down to the creek that ran around the property (this cabin was called "Ginley's Gulch" for future reference).  There they would walk the creek, hunting for crawdads, geodes, and minnows, and they found quite a few of all of the above.  As I said, this property had a larger yard, and also 85 acres of forest, and in the future I would like to explore the gorgeous property more since I wasn't quite feeling up to that this year.  I did enjoy walking down the cleared path into the forest though – there were many beautifiul butterflies, cool looking insects, and birds to see and hear.  And oh yeah!  I forgot to mention another huge plus of Ginley's Gulch – the screened-in porch!  It had a ceiling fan, so it was a wonderful, mosquito-free place to spend our Brown County evenings together.  A great trip!!
July 6 – We arose at the crack of dawn to pack up the car and get the kids roused for the 4+ hour drive to Michigan to drop daughter #2 at camp.  We were all exhausted, and the kids slept much of the way.  We did stop in Fort Wayne for something to eat, and we finally tried a little cafe where we had always wanted to try their eggs benedict since reading an ad for them years ago.  The eggs benedict was a bust – sauce from a packet, don't you know, but they did have one of my seasonal favorites that's very hard to find in the northern part of the country where I live: fried green tomatoes.  And they were yummy!  We dropped Sammie off at camp just a little late, and we were excited for her after seeing what a great place Camp Selah is (Camp Selah is a Christian camp in Reading Michigan, and both of our kids who went had a SUPER time!)
July 7-9 – These next few days were a bit quiet without the whole brood together, and we fit in another family min-vacation: since Sammie had to be picked up in the morning in Michigan, we took the other 3 kids to the drive-in in Coldwater Michigan and spent the night there – lots of fun!  Saturday the 9th we picked up Sammie, and she said she had a good week during her first ever time at camp.
July 11 was the 3rd birthday of a very special little guy, and we took him out to dinner at the local Mexican restaurant where they sang to him, put a sombrero on him, and dabbed his nose with dessert.  I of course forgot my camera 🙁  but he liked it all the same.  It reminded me of last year when the staff at Bob Evans sang to him, and he dove into my shirt to hide – the year of experience helped him to enjoy the attention more this year.  And in the morning of little dude's birthday, I had to drive Taylor to camp in one of the nastiest storms of the year.  We made it there without a problem, but the ride home was dicey with driving rain and wind.  I was glad I didn't have any kids with me which would have made me nervous, and as you can tell I made it just fine – even if I did arrive sopping wet and very late to Bible study.  In the newspaper the next day, I saw a picture of a power line that fell into the road which turned out to be the same road I had been driving down during that storm.  Just goes to show you what kinds of things to look out for when driving during inclement weather in the middle of desolate farm country, and I feel blessed to have made it safely.
July 11-14 – So with our eldest away at camp, the week flew by…  even though we missed her (I especially missed having someone old enough to have a normal conversation with me during the day).  We had 3 days of doctor appointments (me and our youngest-for-now had his 3-year-checkup) and meetings, and then… freedom!
July 15 – Hubby and I met my mom in South Bend, and she took "the littles" (our family name for the younger kids in our family; in this case it meant our 3-year-old, 4-year-old, and 7-year-olds) to Grandma's for a vacation – which left Hubby and I kidless for a whole day!  So Hubby took me to the Potawatomi Zoo in South Bend, and the amount of walking and the weather was perfect for me even while pregnant since it was just the two of us.  What a great idea as I was just starting to get zoo withdrawl!  After the zoo, we decided to take the scenic route home from South Bend and fell upon a perfect date purely by accident:  in Middlebury Indiana, there is an excellent Amish-style restaurant called Das Dutchman Essenhaus.  We were driving by on a day when they had a buffet, so we could sample many varieties of their very delicious food.  Even better, there were some Amish men offering carriage rides in the parking lot, so we took one!  It was so romantic, the grounds of the mini-resort were beautiful, the weather was perfect, and hearing the history of the grounds as told my our Amish guide was wonderful – best date day ever!!
(below is a picture of a horse and buggy like the one we drove in (ours was more of a carriage than a buggy).  I had to take the picture on the way home since I had forgotten my camera and couldn't take any pictures while on the buggy ride!)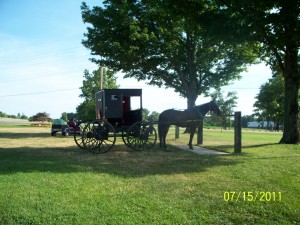 July 16 – This was the day we picked up our oldest from camp, and we got to hear every detail about her awesome week while driving from Michigan to Fort Wayne to see…  the new Harry Potter movie ON IMAX IN 3D!!  Yes, it was as cool as it sounds, and it was fun to take Taylor out for a fun day with only parents and no younger siblings – dinner was at Golden Corral, one of her favorite places since she loves steak.  I'm thankful that the awful nausea I felt earlier in the day did not persist through the movie, and the cause of it that day still perplexes me…  such is a mystery of pregnancy, I guess.
July 17-18 – The 3 of us tackled the huge project of cleaning out our spare room – what a mess!  I wish we had taken some "before" pictures, but the most important thing is that it got done, even if I felt like I was going to fall over in exhaustion by the end of it.  I'm so proud of Hubby for all the hard work he did for this project, and especially that it was his idea to tackle it earlier than we had scheduled – we began Saturday night after Fort Wayne rather than Sunday after church as we had planned.  But it looks GREAT, and as I'm writing this at the end of July, our family has gotten so much use out of it already.  We made it into a craft / hobby / school room, and it has a computer, Taylor's new sewing machine (a present from Grandma), all kinds of paper, crayons, glue, etc, and all the many, many arts and crafts kits and supplies we had been saving (and losing) for the past 5 years.
(July manifest to be continued – need to give your eyes a break!  But first, here is a pic of a creative, cute fire hydrant in downtown South Bend Indiana I snapped while sitting at a stoplight – look for it near the silver van's rear bumper)