November Election Day 2010 – it's come and gone; everyone is ecstatic to be freed from being forced to absorb those scathing campaign ads.  In the wake of Election Day, one Chicago 'burb emerged with a history-making result.  Buffalo Grove, Illinois citizens voted upon and passed a successful recall vote of a village trustee for the first time ever.  You might have read my previous post about Lisa Stone, the tenacious (polite word) village trustee who helped make Buffalo Grove village council meetings look like too-good-to-be-real-for-reality-tv.  She would do things like nit-pick, interrupt, refuse to take order; many times single-handedly being responsible for meetings lasting into the following morning!  Lisa Stone and the Village President Elliott Hartstein would butt heads at every meeting until he was so frustrated he looked ready to burst.  Well, the votes were counted, and Ms. Stone has to leave office.  And if you think that Village President Hartstein was happy about this, check out this little video of him impersonating (complete with wig) the thorn, uh, Stone in his side:
Yes, it was a horrible political decision, and a public apology was issued promptly.  A guy's gotta vent, but he should have known better.  Just when we thought the reality show was canceled, a bonus episode appears.  For the whole story, click here.
***It's come to my attention that the video is no longer available – bummmer!!  It was too funny!  Well, there's nothing I can do about that, so here's the next best thing: pictures.
Ms. Lisa Stone herself: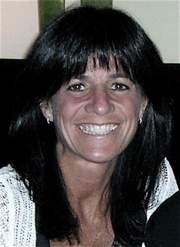 And Village President Elliott Hartstein dressed as Lisa Stone: