Here is an update on a story I posted last week about a man who was pulled over and subsequently backed his car up onto the police car.  Seems the officers did manage to find something to charge him with besides the original speeding ticket: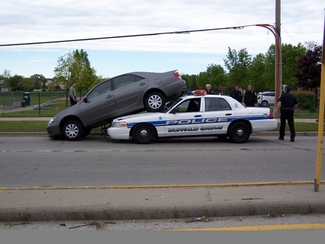 Police Charge Niles Man They Say Backed Onto Squad Car
A Niles man who reversed his car so that it ran on top of a Buffalo Grove police car Friday has been charged with reckless driving.
Henry Raskin, 70, had been pulled over by a police officer around 11:30 a.m. Friday for speeding. He had been driving 58 mph in a 35 mph zone on Dundee Road, police said.
After the officer wrote Raskin a ticket, he hit the gas while he was in reverse and ended up with his vehicle on top of the squad car, police said.
Sgt. Scott Kristiansen said Tuesday that police determined the incident wasn't purely an accident after watching the squad car video and talking to Raskin.
"It appears to be a little bit more than a mistake," he said. "We think it meets the criteria for reckless driving."
Kristiansen said that most drivers if they found they had accidentally reversed in this situation, would have hit the brakes before driving over a police car.
Raskin posted 10 percent of his $2,000 bond Friday and was released. He has a June court date in Rolling Meadows.